| | | | |
| --- | --- | --- | --- |
| | Puzzle n°10 (*) - Who ate the roast ? | | |
I have 6 somalis : Alaska, Bouboule, Charlie, Deuteronomy, Eleanor and Faramir.
I was about to serve a splendid and juicy roast to my guests when... I noticed that it had disappeared !
Well, not quite. I hardly had time to see two tails disappearing from the kitchen, leaving their treasure behind.
So I got out some ready-made stuff from the freezer to serve my guests,
and went to enquire about who were the two culprits among my 6 somalis.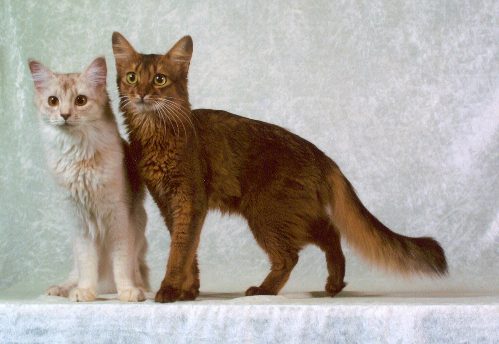 How could it be us ? Come on...
I know that, when they are innocent, my somalis never lie.
Alaska said: "Charlie is innocent"
Bouboule said: "Deuteronomy is innocent"
Charlie said: "Eleanor is innocent"
Deuteronomy said: "Faramir is innocent"
Eleanor said: "Alaska is innocent".
Now, I knew who the culprits were.
What about you ? Do you know which two somalis have stolen the roast ?
| | | |
| --- | --- | --- |
| © Marie-Bernadette Pautet, 2005-2019 | | Last page update: 6.9.2006 |