| | | | |
| --- | --- | --- | --- |
| | Puzzle n°20 (*) - Hide and Seek in the Camping Island | | |
I was on holiday with my somali, and we arrived in a very nice atamp on the coast.
This camp was very nice, with bungalows spread among the pinetrees,
with sandy paths between them.
In particular, part of the camp was on a small island with only 7 camp sites,
all named after a cat breed ! This island could only be reached with a boat.
Here is a map of this paradisiac island :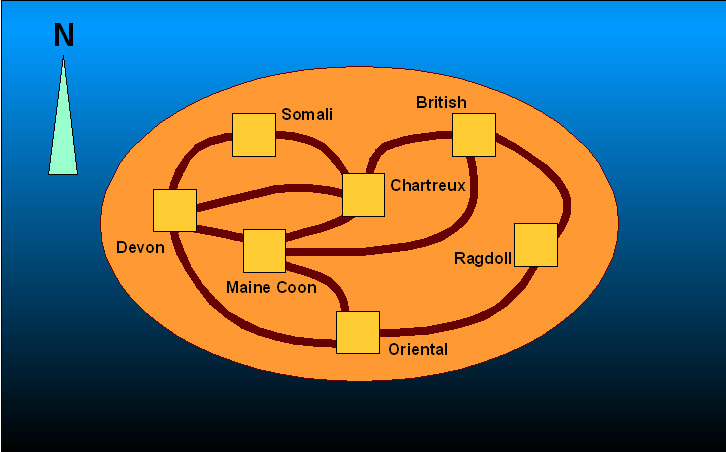 I was just landing on the island, from the North Side, and began to explore the sites from there.
But my somali decided that his curiosity could not wait and went to visit on his own.
So I went to look after him.
Playing the detective, I soon noticed his tracks in the sandy paths.
In fact, he had walked through every single path of the island already !
The marks were too indistinct to be sure of the direction in which he was walking,
but I could see that he had walked through every path only once.
I wanted to find him before night fell, so could you help me and tell me where he's hiding ?
| | | |
| --- | --- | --- |
| © Marie-Bernadette Pautet, 2005-2019 | | Last page update: 10.7.2007 |