| | | | |
| --- | --- | --- | --- |
| | Tikky de la Chacolaterie | | |
Tikky (pedigree) was born in October 2002, from the mating of Bouboule and Roller.
This mating was done between two cats from my breeding, from totally different lines.
Tikky was both a completely trustful kitten and an inquiring one (picture by Christophe Hermeline)
Tikky is extremely sweet cat, loving and very considerate
(he would slide down rather than get his claws out on us to retain his balance).
During his first cat show
(the big Baltard feline show in January 2003),
Tikky comes back from the stage
INSIDE his trophy
(Best in Show 3-6 months semi-long hair)
Guillaume was so proud !
Always a cool cat during the cat shows, often on my shoulders, Tikky earned his titles very quickly
and he became Grand European Champion in 2004 (as a lilac silver somali).
Tikky, pictured by Christophe Hermeline at the belgian cat show in Charleroi (August 2004),
then pictured by Douce France at the cat show in La Rochelle in October 2004.
We now had Tikky tested (Biofocus lab, April 2006) for the B locus, and he is not a lilac silver, but a fawn silver,
like his mom Bouboule and grand-mom Mila !
Tikky has been dad a few times.
He was mated with "Naxou", a black silver abyssinian living at the "des Màurê di Ankh" cattery,
and you can see pictures of his babies on Isabelle Berne's site.
His last mating was with Azurite des Fauve et Or, a blue somali, for the first litter of the "Chatsvelours" cattery,
with Flora and Jérôme Bonnenfant.
Tikky is now living in Paris,
where he tries to think over
(in the position of a well-known "thinker")
how to best make friend with his new companion,
Stochastic, a black and white domestic shorthair.

(picture by Sophie Borgnet)
Since the first winter after he was neutered, Tikky developed an impressive collar.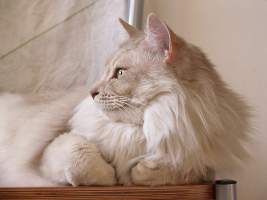 (picture by Sophie Borgnet)
He had a beautiful life with Sophie and her family,
until his death at 17,5 years old on 24 March 2020.
He will always be remembered as one of the sweetest cats I ever had.
| | | |
| --- | --- | --- |
| © Marie-Bernadette Pautet, 2005-2020 | | Last page update: 31.08.2020 |