| | | | |
| --- | --- | --- | --- |
| | Edelweiss de la Chacolaterie | | |
Edelweiss (pedigree) is a daughter of Une Pomponnette (fawn silver somali) and Arakis de Buffavand, chocolate somali.
She was born in september 2009.
Here she is, with mom "Pompon" and her litter brother Eclair :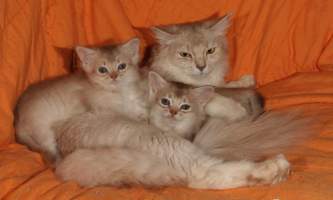 Edelweiss grows with a lot of elegance and is a living reminder of her so-loved aunty Bouboule,
as much in the softness of her expression as in the volume of her fur.
Spring 2010 : "Follow my white plume!..."
Winter has come, and she discovers snow together with Brownie:
She is a tiny female, but well proportioned and very lively.
She was mated to Brownie in Spring 2011, and gave birth to 3 beautiful kittens on July 27, 2011 :
two black silver females and a ruddy boy. Go and see all their pictures on their page.
| | |
| --- | --- |
| before | after |
| | |
Since 2016, she had intestinal problems (probably lymphoma).

Though she still ate well (but very slowly), she became very skinny.
So she had her spots : the heater (when central heating was on) and a warming basket on my bed..
Her quality of life lessened during the last months, and she was put to sleep on April 4, 2023,
after a very long stay on my lap in the warm sun of this spring afternoon.
| | | |
| --- | --- | --- |
| © Marie-Bernadette Pautet, 2005-2023 | | Last page update: 4.4.2023 |