27 July 2011
Edelweiss' first babies are born ! Though of a small stature, Edelweiss gave birth to 3 babies without problem:
two black silver females weighing 77 grams and 84 grams, and a ruddy male weighing 98 grams.
Proud dad is Brownie
Here is Edelweiss, 2 days before and 2 days after the birth:
The three little heads on their first day, well buried within mom's fur:
| | | |
| --- | --- | --- |
| | | |
| Galipette (then renamed Gypsie) | Gianduja, the male | Gaufrette |
Edelweiss proves to be as good a mom as was her own mom Pompon and her grand-mother Mila.
She seldom leaves her babies who grow regularly.
Here is the whole family after one week (lef), a black silver female (middle)
and the ruddy male (right) busy suckling under mom's protective paw.

At two weeks old, babies have their eyes fully open on the surrounding world.
A few days later, they begin to play together and want to see what happens outside the nest.

Gianduja,
plump ruddy male
Galipette - Gypsie,
black silver female
Gaufrette,
femelle black silver (left, with her brother)
Three and a half weeks old, they start exploring... but mom keeps a close eye, talks to them,
and takes them between her front paws like in her arms for a little bit of cleaning up :
Here are close-ups of the two females :
| | |
| --- | --- |
| Gaufrette | Galipette - Gypsie |
| | |
| | |
One month old. Galipette is now spoken for, and her name changed to Gypsie, which fits her well too.
Here are the three of them :
While Gypsie is at the milk bar, Gianduja and Gaufrette are playing, alternating quarelling, licking, chasing, ...
End August, here are the two little clowns Gypsie (left) and Gaufrette (right).
Their brother is here very seriously concentrating in the litter box (left).
Here are all 3 of them in the wicker basket :
September is already there! The three kitties are jumping all around.
Here are a few pictures taken during the quietest moments:
Always checked upon by the mom's corner of an eye and two ears, the kittens are
Gaufrette to Gianduja : "I'm gonna eat you, starting with your ear..." but he doesn't seem to mind, using her as his pillow one minute later!
Cela fait rire Gypsie aux éclats... (ou bien est-ce prélude à un gros dodo, car les petits yeux se ferment déjà...)
Here they are, 2 months old, staying "quiet" for 2 seconds
(Gianduja is left, Gypsie in the middle and Gaufrette at right)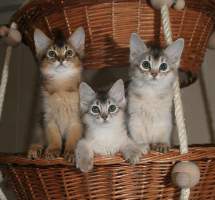 Individual portraits of 3 acrobats: from left to right, Gypsie, Gianduja and Gaufrette.
Already 3 months old: here are the last pics of all 3 kitties together before they each go and live
with their respective families.