| | | | |
| --- | --- | --- | --- |
| | Une Pomponnette de la Chacolaterie, aka "Pompon" | | |
Pompon (pedigree), daughter of Mila and Roller, was born (by C-section) on 10 December 2003 (last litter of Mila).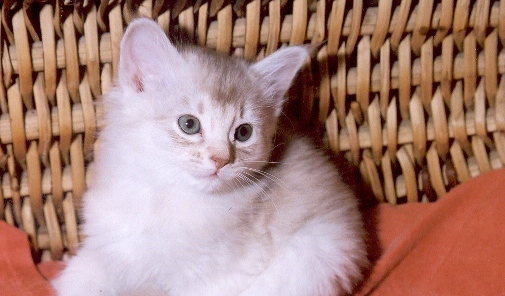 She is a slender somali, with a long and elegant body and a nice tail plume.
She looks as if she is always amazed.
Pompon, autumn 2004 (pictures by Douce France)
She became great international champion (as a lilac silver), and she had her first babies on October 7, 2005 :
a sorrel silver boy (Amos) and two black silver girls (Aubépine and Arcia).
From this time on, she keeps dreaming of having babies again,
and attempts to "kitty-sit" those of the other females whenever she gets the chance.
Like all the offspring from Mila, we had her tested genetically for the colour on the B locus.
And she proves to be fawn silver like Mila or Tikky, not lilac silver !...
Hence she has won the right to start her titles all over again in this new colour... ;-)
She is currently European Champion.
Her blood group is A, she is free from PK-def and from PRA.
She had her second litter in 2007: go and see the picture album of her meeting with Bucci and
the pictures of the kittens, a lilac silver male (Calisson) and a fawn silver male (Chabichou).
Then, in 2008, she gave birth to three black silver kittens: two females (Duibi and Dina) and a male (Domino).
Last, in 2009, she was mom to Eclair and Edelweiss (the latter was born by a C-section).
Unfortunately, in 2010, it seems that the uterus did not contract efficiently and no kitten could be saved.
Hence Pomponnette was neutered during the C-section to avoid an additional anaesthesia later on.
She will have to content herself being a step-mother now....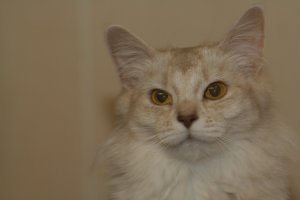 Once neutered, she became even closer to us.
She frightened us in June 2014 when we felt an abnormal nodule between her shoulders.
We had it removed and were happy when the biopsy revealed it was not a fibrosarcoma !
In December 2021 we wished her a happy 18th birthday.
Her hind legs don't have much muscle any more, so we set a stair-stool in front of her favourite heater,
so that she can get up and down ; she is also actively looking at any sunny spot to keep warm.
But her favourite spot is cuddling against my friend on the sofa or in the bed.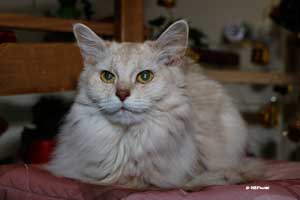 Summer 2022: she lost a lot of weight, and is now deaf.
She still eats quite well, but only accepts kitten mousse, yogourt, ham and small pieces of chicken or pork,
but does not seem to be in pain.
During the night of 10-11 september, Pompon was so tired that she was helped to cross the bridge,
thereby preventing her from suffering the pain of terminal renal failure.
She was 18 years and 9 months old. She was the eldest of all our cats, both quiet but very present,
our days were punctuated by her habits and her shadow seems to linger where she loved to be.
| | | |
| --- | --- | --- |
| © Marie-Bernadette Pautet, 2005-2022 | | Last page update: 30.09.2022 |