Guinness and Brownie are proud to present the first litter of 6 kittens born at la Chacolaterie.
Guinness had planned everything: she started labor at 8h30 on Wednesday, August 6th,
(just the time at which my vet's office opens... just in case...), she had delivered her 6 kittens by noon,
with a full respect of sex parity (3 males, 3 females), nice birth weights and no complication : what else to ask ?
Still wet, the babies found their way to the tits (here, the 4th born, a male)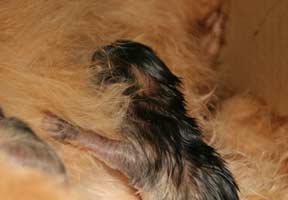 Very soon, a "hunch" of little ruddy somalis were fighting for the best tits
(here, it seems there are 5, but in fact one is hidden below the others)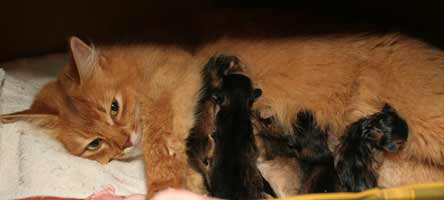 Below are a few pics taken 4 days after birth, first the family, then the head of M4 (left) and F6 (right)
For the time being, the babies have code names giving their sex and order of birth. For instance, M4 is the 4th born, a male and F6 is the last born, a female.
I had to paint the claws of their back paws with red and blue to make sure I don't mix them up, in particular when weighing them...

One week already !
Here is a close-up of M4, lifting his head, then having a big big yawn and falling back asleep again...
Below, F2 sleeps soundly.

16th August (10 days), all the little eyes are now open (well... when the kitties are not asleep!),
the last born had even her eyes fully open before one week, and they are now all above 200 grams.
Here is the "bunch" of 6 kitties asleep. When mom arrives, they stretch, yawn,
get a licking kiss from mom, and hurry up to the milk bar!
Now, I hear them very distinctly purr.
At 15 days old, they start to explore a little bit outside the nest,
but beware, not too far, because mom tolerates 50 cm at most...
| | |
| --- | --- |
| The males | The females |
| | |
| | |
| | |
23rd August : they haven't been taking enough weight for two days now.
They are nevertheless very active and Guinness takes good care of them, but she hasn't got enough milk left.
I try to complement with replacement milk, but for the time being they are stubbornly
refusing anything but mom's half-empty tits...
On the 26th evening (day 20 on the weight curve), they seem to accept much better with the tiny silicone tits on a syringe,
if I mix up the milk with some very soft weaning mousse.
Despite the slow down in their growing curve during the last days, they are very lively
and look at me as soon as I speak to them, with their little ears pricked up: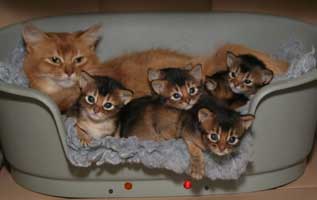 28th August (22 days) : the weight curve has started to go up again (I must admit they had 4 complements yesterday,
the last born having come to me at midnight asking for more...) :
It's such a reward to see them like it now!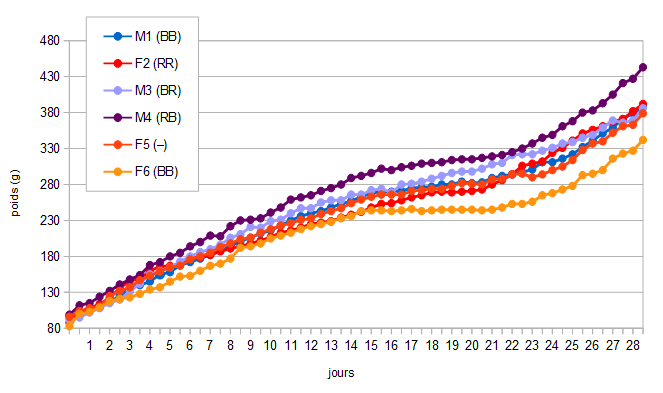 Weight curve for the first 4 weeks (2 dots a day : morning and evening)
31st August: I moved the nest (it was at bed's height until now) to install the whole family on the "ground level"
in a show cage which is bigger than their previous box ; they enjoyed being able to wander around...
Here are the individual portraits at 3.5 weeks old - their focus still needs some adjustments, but whoaw how much they changed already
if you compare with their last portraits when they were 2 weeks old!
September 3rd (4 weeks old)
Edelweiss, as usual, has decided it's time to
take part in the kitty-sitting.
On the pic at left, she is at the back, inside
the heating basket, while Guinness is in the
middle with kittens suckling. Two other kittens
are playing sandpit with the litter.

Edelweiss is extremely patient with
the kittens : here, she keeps calm
while the first born male is
numbling her ear !
The ears of the kittens continue their evolution towards their final placement. Here is a close-up of M3: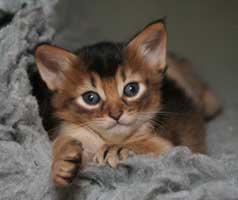 September 28th: At last, here are this month's pics...
(my PC "died" early september, hence this delay)
Guinness almost disappears under a hunch of babies (September 8th)
but, for a few more days, Edelweiss is there as an assistant
(her voluntary baby-sitting stopped after about 2 weeks, when she went back on heat)
Portraits of September 13th (they are 5.5 weeks old) :
M1, aka "Malibu" found this little cardboard box just fit for his size and adopted it
to clean himself, munch on it and curl up to sleep
The two other males are Jump-Purr (M3), left and Jellicle Cat (M4), right
The three females, from left to right, are Jaï-Purr (F2), Jodh-Purr (F5) et Jemima (F6)
September 28th: individually, each one of them seems a very quiet little child, as shown by Jellicle cat below left,
but when they are together, it's hard to have a second of attention for a still picture (isn't that normal for Jellicle cats ?)
Even mom's licking seems to be a bit long to Jemima...

So I had to take my group picture in two smaller groups : here are the 3 males (left) and the 3 females (right)
| | |
| --- | --- |
| Malibu, Jellicle Cat, Jump-Purr | Jemima, Jodh-Purr, Jaï-Purr |
For their 2 months, they were offered an afternoon at Jean-Michel Labat's photographic studio,
for the Arioko agency



Here are some nice shots from this afternoon (© Labat/Rouquette/Arioko)
No way to get all six together !!! The best we could get is 4 or 5... for a second...
So we settled for groups of 2...
Here is a last pic of this memorable afternoon, with mom (obviously more stressed than her kittens by the environment)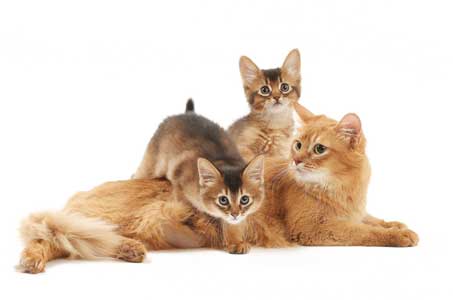 October 25th : here is my only picture of them 6 together... it took quite some time and energy
a teaser was destroyed in the process... ;-)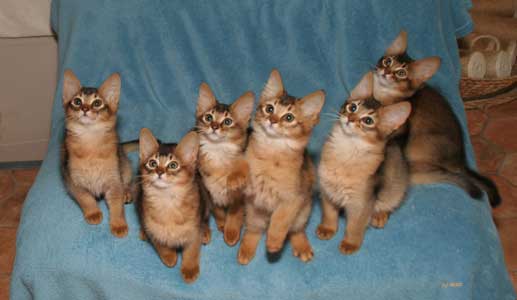 Here are portraits of the three males (Malibu and Jump-Purr are carriers of the PRA-rdAc mutation, Jellicle Cat is free)
Now for the females : among them too, two are PRA-rdAc carriers :-( and only little Jemima does not carry the mutant gene.
The kittens have reached their 3 months. Here are the last pictures of the whole litter together,
just before Jaï-Purr (the first kitten to leave the house) goes to her new home :
November 10th - After Jaï-Purr, it was Jellicle Cat's turn to leave his brothers and sisters and go meet
a Sacred Birman cat in his new home.
Here is a picture of their first meeting, and another one four weeks later, nothing can separate them now!
November 16th - With winter approaching, the kittens seem to appreciate the radiator beds.
Here, a yawning contest between Jemima et Jump-Purr:
Then, individual portraits of Jodh-Purr surrounded by her two brothers (Jump-Purr at left, J'suis Malibu at right) :
December 6th: some pictures of J'suis Malibu, Jodh-Purr and Jemima at 4 months old.

Jodh-Purr (sitting)
et Malibu (lying)

J'suis Malibu,
big eyes, big ears
and dark ticking

Jodh'Purr,
soft and sweet

Jemima,
cute and impish
January 24th, 2015 : Malibu and Jodh-Purr have gone to their new home today, both together !
Here are the pictures just before they leave :
| | | | |
| --- | --- | --- | --- |
| J'suis Malibu | | | |
| Jodh-Purr | | | |
Jemima wonders "Where have they gone... ???"