| | | | |
| --- | --- | --- | --- |
| | Brownie de la Chacolaterie | | |
Brownie (pedigree) was born on the eave of Easter 2006, from the mating of Ti-mate with Uly Sweet des Fauve et Or.
He was part of a litter of 4 ruddy males, nicknamed "the Beatles", my only litter in 2006.
There he is, 7 months old :
Brownie has such a sweet temperament and his eyes know how to speak to me...
Here are some pictures taken during the international cat show in Port-Marly on December 10, 2006 :
(pictures by Christophe Hermeline)
Here is now Brownie, 9 months old, during the Baltard international cat show in January 2007
(See the list and results of all abys and somalis present at Baltard 2007)
(pictures by Elsa Kergosien, la Rivaleraie cattery)
Brownie was with me at the "Salon du Chat" in Tours, Loire Valley, on February 3-4 2007.
Here are a few pictures of him shot by Christophe Hermeline in his studio :
Brownie is free from PK-def, as are all my non-neutered cats.
However, he is a carrier for PRA I (progressive retinal atrophy), for which he inherited the mutated allele from his mother.
This does not bear consequence on his health, since PRA I is autosomal recessive.
But he will only be mated to PRA-free girls in order not to bring to life kittens who will eventually develop PRA.
His blood group is A.
Brownie has become a dad in 2008, but he is still as charmingly kitten-cute... and soooo affectionate !
His first babies are with Alaska and Une Pomponnette.
Go and have a look at their pictures on the 2008 litter page.
He is really in love with Alaska, and they had babies again in 2009 : Etincelle, Ellipse ("Pimousse"), ENS and Elfie.
At 3.5 years old, he is very elegant and remains so expressive... well rendered by these pictures from Jean-Michel Labat :
On December 17, 2009, the first snow covered the garden with a crispy white coat.
Brownie wanted to leave his pawprints in the snow while playing being a fox :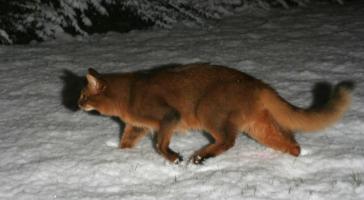 Brownie and Alaska had a cute ruddy girl in June 2010 : Furette.
And Brownie is also dad of three nice ruddy kittens in 2009 with Claim of Chacureuilp
(shhh... don't tell Alaska...), and again in 2010 !
But he looks always so young :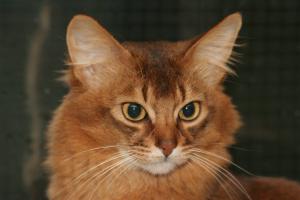 Christmas 2010... Brownie plays the starring role in the snow again this year !
2011 : Brownie, now Gr. European Champion (the highest LOOF championship title), has 3 new babies with Edelweiss (pictures here)
He is already dreaming of his next conquest (left), but in the meantime (right) he likes the babies' tiny croquettes.
He participated in the 50th International Agricultural Fair in Paris in February 2013,
where he proudly represented somalis during the breed presentation organized
by the French pedigree register (LOOF) to show a dozen different breeds per day.
Here, during a presentation session :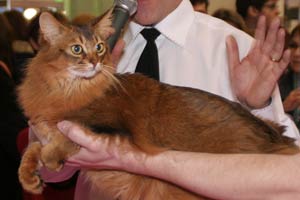 After having sired 3 beautiful litters with Guinness (2012, 2013 and 2014),
he was sterilised and remained (since he was already) the sweetest cat in the house,
never tiring of cuddles and friendly with every human.
He slept as usual by my side on the bed, and it came as a shock when
I realised that this morning (March 1st 2020) he did not wake up.
No cry, no warning signs... he died during his sleep
(the sweetest death we can ever wish our loved ones, whether human or not),
but the affective loss is immense...
| | | |
| --- | --- | --- |
| © Marie-Bernadette Pautet, 2005-2019 | | Last page update: 01.03.2020 |