| | | | |
| --- | --- | --- | --- |
| | 2006: the Beatles: Bijou, Boston, Brownie and Biscuit | | |
This page contains many pictures of my first ruddy litter, for your enjoyment.
Since these pictures will be downloaded in their order of appearance in the page, please be patient before you discover the most recent ones...
Ti-mate (picture at right) hates to be dominated in any way by another cat, even a male when she's calling...
It took a lot of patience to get her to accept to be mounted
by Uly Sweet des Fauve et Or (picture at left),
a very sweet (as his name) male.

Uly (pedigree) is a cinnamon-carrier ruddy somali.
He lives with Francine Gambert (Som de Kismayou cattery) in Gourdon,
a town in the beautiful South-West of France.
But the efforts of all were not in vain...
On Easter Saturday (15 April 2006), Ti-mate gave birth to 4 ruddy babies.
4 long-haired males during the "B" year ? Well, that's the Beatles !
There she is, resting between two contractions, then as a brand-new mom.
Let me introduce the 4 little ones,
who are 2 weeks old on the picture.
From left to right :

- Bijou (close to mom)
- Biscuit (the leader of the pack)
- Blacky (lying, in front)
- Bambi (at the back)
The "Beatles" will soon be one month old, their ears have travelled up, and they spend more and more time playing.
Because Ti-mate'skin around her nipples is sore, I encourage them to discover other food :
replacement milk of course, but Bambi already loves to chew little pieces of raw meat !
There's a whole world of things to discover when you're a one-month old kitty !
At six weeks old, the Beatles now really enjoy running at full speed throughout the house...
Trying to convince them to stay still in the basket for the pictures really was a challenge !
Here are their individual portraits at 8 weeks old. Blacky has been renamed Brownie...
| | | |
| --- | --- | --- |
| Bijou | | |
| Bambi | | |
| Brownie | | |
| Biscuit | | |
And, just for the fun, here is Biscuit when he decided he wanted to dress up as an American Curl...
Then he shook his head and was his old self again !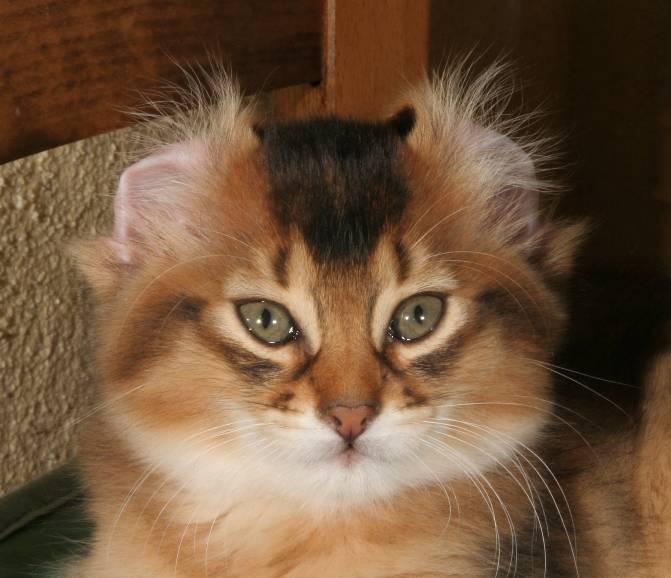 Our little ones have grown, they are taking more and more "adult" poses now, are running towards me when I call them
and their ticking is showing up fast. Here they are, at 2 and a half months old:
And here are a few pics of the Beatles at almost 3 months old :
Being a 3-months old somali guy doesn't preclude getting lots of cuddles from a nice young she-cat,
while mom has other thoughts in mind (rolling and calling...).
This nice young she-cat is Alaska, she is not related to the kittens and never was mated yet
(she is 16 months old), but takes her future-mom training very seriously !
Boston (previously called Bambi) has now moved to his new home, where he lives with a neutered Chartreux male.
Here is the first pic of his new album !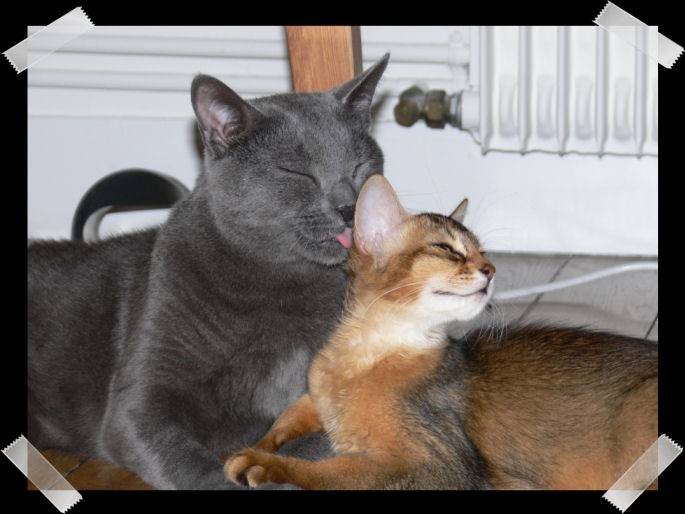 (picture by Hervé Palmieri)
Bijou, Brownie and Biscuit play a lot together, and they love baskets of all sorts.
But September being the time to go back to school, they have also decided to improve their reading skills,
with the help of the "Cat's first reader", then the advanced "A-Z of feline philosophy".
Brownie can't take his eyes from the cat-dictionnary he is studying !
Bijou is now living with a Maine Coon twice as big as he his, but he's not afraid !
Bijou and Vaïko are resting after a round of crazy play
(picture by J. Razat)
Biscuit and Brownie stayed at home until they were 7 months old, and both grew in beauty.
No, Brownie is not going to be shipped in a box like this ;-)
but he loves to hide his favorite mouse
and then seek it among the packing material !
Left :
Brownie has the same colours
as the wicker baskets my grandfather wove

Right :
Brownie lets you admire his wonderful tail
Biscuit has now discovered his new home in Belgium, where he keeps company to two lovely somali ladies (sterilised) :
Revelyn and Ty cœur des Fauve et Or ! Here are pictures on the day of his arrival,
with Revelyn (ruddy somali) on the left and Ty cœur (sorrel somali) on the right.
Brownie looked at me with his expressive and loving eyes, and I could only decide that he stays here !
So he has his own page now, where you can see more pictures of him.
| | | |
| --- | --- | --- |
| © Marie-Bernadette Pautet, 2005-2019 | | Last page update: 12.11.2006 |