| | | | |
| --- | --- | --- | --- |
| | 2008: Brownie becomes a dad ! | | |
2008 : Brownie's first babies !!!
Alaska gave birth to three kittens on June 25, 2008, all three were ruddies (it was a 50% chance...).
By chronological order, I saw appear a tiny male (62 grams), then a bigger male, then the placenta of the first one
(who patiently waited at the end of his umbilical chord till his brother was fully out...),
then the second one's placenta, and finally a female with her own placenta.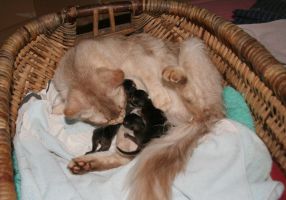 The tiny one did not manage to survive more than half a day, he wasn't very tonic and didn't really want to suckle.
I'm sad to say that the little girl died of unexplained reason at 3 days old... the autopsy did not reveal anything wrong.
So only one big "Doudou" boy remained, who grows well. Here he is, first new-born, then 4 days old :
Of course, Pompon could not resist long to join in the nest before her own kittens are born :
Doudou then found himself as sole baby but with 2 mothers, who cross arms together to protect him !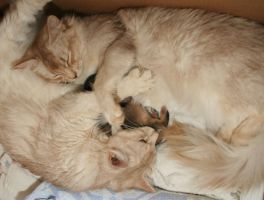 One week later, on July 3rd, Pompon gave birth to 3 black silver kittens: two females and one male.
Doudou suddenly looked bigger !

Here is a bunch of the "new generation"
(Doudou is 11 days old, the little ones 3 days old)
And here are the portraits of the little ones at 4 days old (the male is on the right)
Here they are, one week old. While his two sisters are soundly sleeping on mom-pillow,
the little male is blinking at you !
On July 12th, they all have they eyes wide open on the world,
and begin to try a few play moves between them. Here is Doudou, first 2 weeks old, then 3 weeks old :
And the black silver : isn't life cool ?
Here they are all together, the 4 of them (Doudou is 3.5 weeks old, and the black silvers are 2.5 weeks old)
| | | |
| --- | --- | --- |
| | | |
| Doudou | The two black silver sisters | Domino (the black silver male) |
On July 22nd, both moms have decided that it's time to install
the kittens in a place where they can better go in and out
to explore their environment,
and they have moved them all in a kennel beside the cat tree..

Doudou and Domino are becoming great friends,
playing together and even hugging when they rest :
Doudou has been one month old on 25 July... He isn't yet interested in tasting something else than mom's milk,
but Domino already loves to gnaw on tiny chicken pieces !
Domino and his two sisters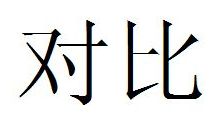 (pronounce Duìbi, this means "contrast" in Chinese) and Dew Pearl
follow everything that Doudou does and they now explore the whole room.
They are so funny, with their little tails up, and coming as soon as I talk to them !
Crazy runs, stairs, pounces, that's it now !
I must wait for the resting times just before the kittens fall asleep to take pictures, now...
Here is Doudou (left, playing hide and seek in a tube) and Domino (right).
And here are the two little females, Duibi (left) and Dew Pearl (right)
When he is not playing with his (half) brother and sisters, Doudou spends moments with his parents...
Here he is, posing in front of mom, then having lunch between mom and dad, and (right) hiding in the cat tree's hammock.
On the picture at left, Duibi (facing us) and Dew Pearl (curled up against her sister) are having a rest.
On the picture at right, their brother Domino will soon also take his nap...
Here is a group portrait, while they were all on the same platform of the cat tree:
Doudou (lying) and Domino (showing his tongue)
frame their two sisters
(Duibi in front, Dew Pearl at the back)

From left to right:
Duibi, Dew Pearl and Domino
And now, individual portraits at (almost) 2 months old
Duibi (center and middle picture), her sister Dew Pearl (left) and her brother Domino (right)
pose on the day of their 2 months.
On the right picture, Doudou holds the tail of his green mouse.
The hanging storage sold by Ikea for kids to put away their soft toys is always so attractive:
"Cats at every level" (middle picture, below, framed by 2 pictures of Doudou)
Now, may I introduce Dina (picture at left), renamed at the request of her future family
(if you think you recognized Dew Pearl, you're right, it' the same kitty !!!)
On the picture at right, Duibi puts a protective paw on her brother Domino.
Time has come for the kitties to go to their new homes...
Here are their pictures just before they leave la Chacolaterie :
Doudou, a big soft heart with a pinch of shyness

Dina, number one for purring with her face to melt anyone
Duibi remains a bit longer in our home, since she will then go abroad,
and she took this opportunity to participate to her first cat show (she was awarded a Best Variety price),
between dad (to play) and mom (to suckle when coming back from the podium)
Here she is, just before leaving for the Netherlands where she is now living in the same home as her grand-dad Roller.
she alternates between moments of relative quietness (left, middle) and moments of intense activity
(right, she is visiting the mouse cage... [while the mouse is out])
One year old already... Here is Dina obviously enjoying "her" garden :
(pictures S. Zmitrowicz)
as well as Duibi refreshing her tail in the pond...
Doudou, looking so proud of his "panache" that he is moving it too fast for the camera...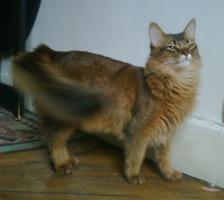 (picture F. Tallec)
and also Domino, not a bit less proud with his growing collar :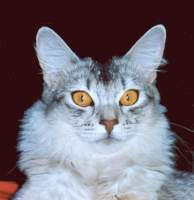 (picture S. Fernandes)
| | | |
| --- | --- | --- |
| © Marie-Bernadette Pautet, 2005-2019 | | Last page update: 18.9.2008 |