| | | | |
| --- | --- | --- | --- |
| | Aurore d'Alaska de la Chacolaterie, aka "Alaska" | | |
Alaska (pedigree) is the daughter of Bouboule and Utahwa Som de Kismayou, sorrel somali, himself a son of Roller.
She was born in our home in March 2005, in a litter of 4 kittens.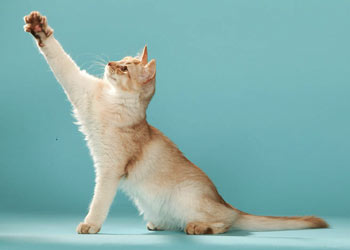 Alaska in a very graphical pose (picture by Christophe Hermeline)
She is a sorrel silver somali with a tinge of chocolate in her cinnamon.
She inherited her grandmother Mila's fearlessness,
and combines an unquenchable curiousity with a wide imagination to reach her goals...
In short, we never get bored !
Alaska with grandma Mila, and Alaska looking for butterflies
Her favorite game is to catch a piece of cloth, at least twice as big as her (sweat-shirt, sleeping bag, ...)
and drag it across the house, in the same way as a leopard drags an antilope.
Alaska at her first cat show in July 2005 (pictures by Christophe Hermeline)
For her first cat show as an adult, at the Baltard Feline Show in January 2006,
Alaska was awarded Best in Show among more than 80 adult semi-long-haired females.
Here are her impressions: "They gave me nice ribbons to play with,
and also a big big cup. I checked inside the cup several times, but I couldn't even find a single piece of chicken or ham inside !
The whole education of cat show organizers is to be reviewed..."
Alaska at the Baltard Feline Show 2006 (portrait pictures by Christophe Hermeline)
Some of her pictures have been chosen to appear in the special somali issue of "Chat Magazine", March 2006.
You may also recognise her on the somali breed pamphlet printed by LOOF in September 2007.
Alaska has had her first litter in Spring 2007,
go and discover Choupette and Charlie !
Then she had a second litter in Summer 2008, 3 ruddy kittens were born from Brownie,
but only one survived : go and have a look at her Doudou...
In 2009, she had 4 kitties, always from her favorite friend Brownie : Etincelle, Eclipse, ENS and Elfie.
And a little ruddy girl named Furette in 2010.
Alaska is Grand European Champion (not that she cares much about it...),
participating in French, Belgian, Swiss and Dutch shows,
which means she has completed with success all her show career to the highest level.
Be it in her posture or in her ways towards other cats, she really is a princess !
Unfortunately for her breeding queen carreer, and after having delivered all her first litters without any problem,
she didn't have any contractions for the birth of Furette (hence Furette was born by a C-section),
and neither in 2011 for another last try... So I decided to have her spayed.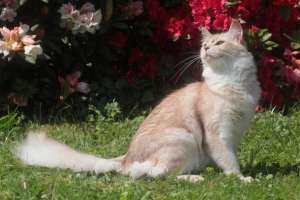 (picture Guillaume Mouly)
In December 2017, she underwent a surgery for a mammary tumor.
Unfortunately, this tumor came back in a fulgurant way 14 months later
and Alaska left this world on Feb. 6th, 2019. She would have been 14 in March.
She remained beautiful until the end, so loving, so present...
We miss her so much !
| | | |
| --- | --- | --- |
| © Marie-Bernadette Pautet, 2005-2019 | | Last page update: 01.03.2019 |