January 23rd, 2012
Edelweiss and Brownie are happy to announce the birth of their baby Haribo (pedigree)!

Mated (oops...) on the 9th day after the start of one of her (frequent) heats,
Edelweiss only bore one kitten: a ruddy male baby weighing 72 grams when he was born.
There he is, one and a half days old, sleeping against mom's paw and belly:
No need to fight to gain access to the milk-bar: Haribo had his mom for himself alone. So he grew quickly and regularly.
Since the day when he opened his eyes, he watches with attention everything the "grown-ups" do.
He is a real little clown, and loves to play with everything you move.
Left, he is gazing (too closely!) on his catch: Guinness's tail. She did not mind,
and even acted as a second mom to him, before having her own babies (picture at right).

7 weeks old already! Haribo hasn't got an undercoat as warm as his dad Brownie,
but he inherited his wonderful expressiveness.
Haribo is 2 months old and he's proud to show his lynx tips on top of his ears :
Haribo has nothing on his mind but play... He is eager for Guinness' babies to be old enough to play with him too !
11 weeks old : Haribo (now spoken for) is always on the look for something to pounce on !
There, he plays with one of his half-brothers, 7 weeks younger (here, 4 weeks old).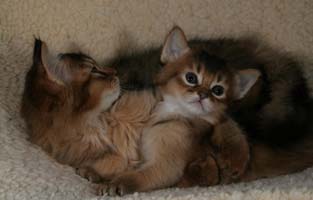 He has an angel's face (left picture), mais is like a "jack-in-the-box" ready to pounce on anything that moves (right picture) !
Haribo is nearing his 3 months and shows his nice profile :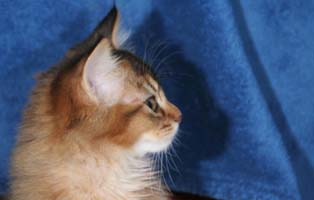 The first picture of Haribo arriving in his new home :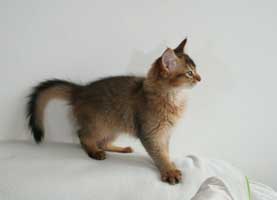 On March 10th, Guinness has had her first litter, whose dad is Brownie. Let her tell you :
12h15

A few good pushes and...
here's a 88 grams ruddy girl.
I lick her again and again, she's my first baby!

12h51
Now her sister is born,
she is ruddy too and weighs 89 grams:
I now have my own two babies.
13h41

Oh oh, a male! He weighs 96 grams.
He's still wet on the picture.
Well, 3 babies, good job, now I can rest a little...

15h15
... but not too long, because
another ruddy boy, weighing 101 grams,
was just born: 4 babies of mine!
15h35

Last, another ruddy girl of 98 grams.

I'm proud to present all my new family:
two males and three females, all ruddies.

I'm purring of happiness!
Here are two of the babies at 5 days old, and then the whole family with 9-days old babies:
Now, individual portraits of the 3 females, 3 weeks old:
| | | |
| --- | --- | --- |
| The first born, small and very active | The second one, quiet and soft | The last born, with a strong mind |
and portraits of the 2 males:
| | |
| --- | --- |
| First male, 3rd born, intrigued | Second male, 4th born, the bigger one |
Voici toute la famille, le jour de leurs trois semaines :
The kittens grow : they were 4 weeks old at Easter and start to have a lot of interaction with humans,
to explore every corner of the room and to taste other things than mom's milk.
Hard to take a picture with all 5 when they are not asleep!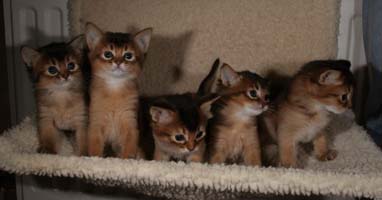 The 3 females :
| | | |
| --- | --- | --- |
| the first-born, smallest and very active | Herminette, second-born | the last born |
The 2 males :
| | |
| --- | --- |
| 3rd born, loves to eat (on) our fingers ! | 4th born, still the leader in weight |
Now they all eat "solid" food (picture at left), but do appreciate mom's milk (picture at right)...
They discovered the little *** with great pleasure : do you see them all ?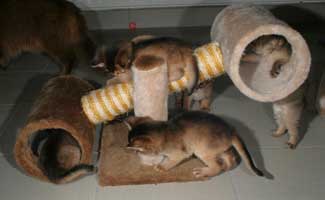 Now individual portraits at 5 weeks old (names not yet final) :
| | |
| --- | --- |
| Hannibal, acting as a clown and enjoying it | H'ami, quieter |
Habañera, daring

Herminette, the cuddliest one, who seems to really
enjoy playing with the little red fur ball

Honey Bärli, who weighs more than
her brothers !
Already six weeks old !
| | |
| --- | --- |
| Hannibal (option) | H'ami (spoken for) |
| | |
| --- | --- |
| | Herminette (spoken for) |
As for Honey Bärli (option), she was soooo impressed by Alaska's demonstration with the big catnip mouse
that she raised her little paws as high as she could and fluffed all her hair to look as huge as possible...
Don't you think she looks like a little sand cat (felis margarita) when doing so ?
Here is Herminette
with mom Guinness
(a model of patience in this occasion) :
« I love you soo much that
I feal like eating you all ! »
7 weeks old : both males are now spoken for and will finally be named Hannibal and Haribo-ter
(any likeness with a certain "Harry Botter" is purely intentional)
| | | |
| --- | --- | --- |
| The 2 brothers | | |
| Hannibal | | |
| Haribo-ter | | |
And now here are the 3 females (left, they are at the center, surrounded by the two males) :
the 3 sisters

Habañera

Habañera is trying to hypnotise the mouse...

Or is she dancing habañera ???

Herminette

Honey Bärli

Herminette started to yawn...
Probably the picture taking has taken long enough,
it's time for a good nap :
Honey Bärli barely keeps her eyes open !
2 months old - now everything becomes accessible to the gang of acrobats, from floor to ceiling !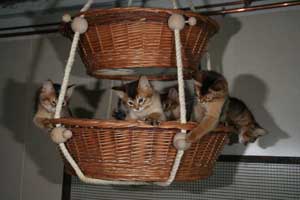 Can you recognize them individually ?

The females : Habañera, Herminette, Honey Bärli
The males : Hannibal, Haribo-ter

(dragging the mouse across one picture should
display the name as a bubble-info)
And, two weeks later, here are some new pics :
The males take the pictures very seriously :
- Hannibal (left)
- Haribo-ter (right)

The females :

- Habañera (left, playing hide-and-seek in the fur cushion)
- Herminette (right, stopped in the middle of her toilet)

- Honey Bärli (bottom 2 pictures)
Extraordinary ! The 5 of them on the same picture... I must admit they were just waking up !

from left to right: Honey Bärli, still a bit asleep,
Habañera, Hannibal, Herminette and Haribo-ter
Here are a few close shots:
| | | |
| --- | --- | --- |
| Habañera | Herminette | Haribo-ter |
For their 3 months, they were allowed to play outside in the secured enclosure.
They didn't hesitate one second... Pounced and pounced in the grass, trying to catch tiny insects,
and climbed on the tree trunks we had set up for them.

Tree trunks are good for...
Grass is great too. Flowers, and many little moving things to chase around...
End of June : Time has come to bring the kitties to their new homes...
Only Haribo ter, leaving mid-july (left) and Habañera (not yet spoken for, right) remain on the pictures :
So many adventures in their new lives... Herminette met a little dog, Hannibal a rabbit and a Guinea pig,
Honey Bärli took the train and Haribo ter (pics below) rides a (very quiet) horse and discovered Harry Potter's story.
He even declared that "he himself did not intend to undertake long magician studies like Harry,
that however he might be tempted to "eat up" some of Harry's books,
in order to find out a way of changing a cork into a real mouse or a piece of paper into a bird..."
| | | |
| --- | --- | --- |
| © C. Boizot | | © C. Boizot |
| | |
| --- | --- |
| © C. Boizot | © C. Boizot |
Habañera, who is now neutered (she was unfortunately carrier of PRA I), grows with elegance and looks every day more like her dad.
They also have a sweet complicity with each other, and at night they sleep side by side.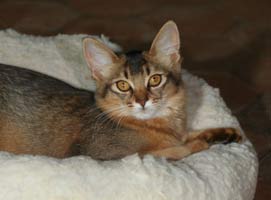 Well... on May 11th, Brownie succeeded, in less than two minutes, to open the doors separating him from Edelweiss,
mate her with her consentment (rather than mine...) and give her 3 beautiful kittens born on July 15th :
a ruddy female born early at 6:30, a black silver male 3 hours later and...
another black silver male who thought it best to wait until the middle of the next night to get out !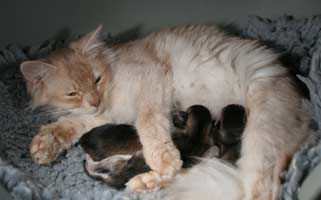 Here are the threee little ones, aged 1.5 days :
Mom Edelweiss proudly admires her one-week old babies! (left picture)
Apparently her milk is good : the little tummies are full and the babies seem happily sated (right picture)
The female and the first-born male opened their eyes after one week, but M. "not in a hurry" waited 4 more days.
| | | |
| --- | --- | --- |
| Little female enjoys rolling and cuddling | | |
At the age of two weeks, the three babies are almost approaching 300 grams each.
The little ears keep growing and moving up into place... here they are at 3 weeks old :
After having spent almost the whole of their first 4 weeks in the nest, the babies are now progressing
quickly in their explorations, always checked upon closely by mom Edelweiss, and even sometimes too
by daddy Brownie (picture below at right, with Hei Bai).
When the 3 kitties play together, Hime (the girl) is not the last one to (mock-)"attack"!
There she is, trying to "eat" Hei Bai, while Haïku (the poet) looks far above...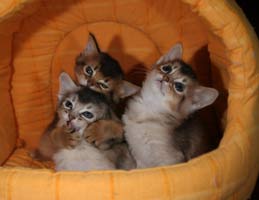 Haïku was really in a mood for pictures today, here are a few :
Hei Bai is now spoken for. Here, he takes the pose of the cute little kid...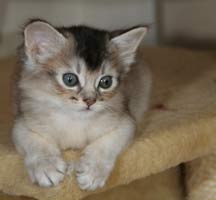 Here is a family picture with mom, for the 6 weeks of the kittens :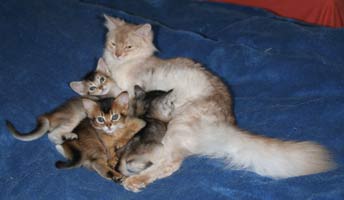 Here are individual portraits at 7 weekd old :
| | | |
| --- | --- | --- |
| Hei Bai, quelle position ! | Haïku | Hime |
« See how much we love our sister !!! »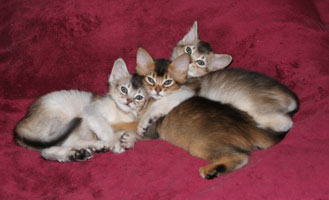 Kitties are now 2 months old, they had their first injection and microchip.
Little princess Hime got a scratch in her right eye. In order to avoid a future scar on her cornea,
she must have drops in her eye many times a day for several days and most of all... be prevented by all means to scratch her eye with her paw. The moon collar is a very efficient tool in this case, enabling her to avoid having to stand a more incomfortable rigid collar.
She is (more or less) getting used to it, but on the picture at right it's her brother Haïku who is attempting to remove it from her neck: it's so much fun to hear the noise of the scratch when he snaps it and draws...
Here, little Hime (center, with her moon-collar) is surrounded by Hei Bai (left) et Haïku (right)
Hime's eye is now totally OK, she won't have any scar on her cornea.
All three kittens still love to cuddle with mom,
even though their combined weights now far exceed hers (left picture)
or sleep in contact with her (right picture, Hime with mom on the freezer top)
Both males are now spoken for. They are getting more and more different in character :
Haïku is a "Duracell battery", and Hei Bai is a quiet dreamer...

| | | |
| --- | --- | --- |
| Hime | | |
Little cutie heads at two months and a half:
| | | |
| --- | --- | --- |
| Hime | | |
Mom Edelweiss is still very attentionate for her kittens, and they all go and cuddle a little from time to time,
but now most of their times is split between delirious games of hide and seek and siestas.
Princess Hime is the inventive one (she's the female, after all !), always looking for something new to do:
| | | |
| --- | --- | --- |
| Where could I jump ? | Hello ! | Slurp... |
Haïku the speedy one, still images in his (rare) moments of quietness:

Nice back line


« I refrain myself from jumping
on that big eye looking at me! »
Hei Bai the quiet dreamer:
| | |
| --- | --- |
| « Mom, may I ? » | « My best profile.... » |