| | | | |
| --- | --- | --- | --- |
| | 2010: Furette, aka Filou ! | | |
25 June 2010
Alaska's baby (from daddy Brownie) is born exactly 2 years after Doudou was born in 2008.
He was 71 grams at birth. He is provisionnally called "Filou".
There he is, resting with mom Alaska at 3 days old:
Then, 6 days old, asleep against mom's paw :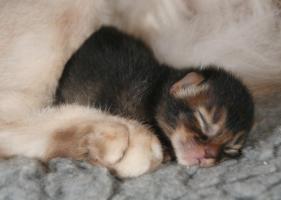 He opened his eyes when he was 8 days old, and since then he is eager to discover what happens around him.
Filou is the first of my kittens (in 11 years) to walk up the stairs by himself before he was 4 weeks old !
He is constantly observing what the "big ones" do and attemps to imitate them...
31 July 2010 : Mom Alaska is very proud of her little one : he managed to climb on the cat tree by himself this morning:
she gives him a big wet kiss (left picture). Then Filou played between dad Brownie's legs... (middle picture),
before pretending to rest but still alert and checking what to play with next...
Oops... Filou is definitely a bit too inventive for a male... for a good reason !
"Filou" is in fact a little female : she will be called Furette
which was the name of the first cat I had as a child and evoques the little furry animal foraging busily in every hole.
Here she is at 6 weeks old :
At 8 weeks old, she is such a speedy one that it's difficult to take pictures when she's not moving.
Here she just woke up on the bed:
9 weeks old, Furette is crouching, waiting for a butterfly to come nearby (picture at left)
inside the aviary which we've just finished building for the cats to enjoy the garden (middle)
or poses like a princess in the top basket of the cat tree (picture at right) :
New pictures of Furette, aka Filou, soon !
| | | |
| --- | --- | --- |
| © Marie-Bernadette Pautet, 2005-2019 | | Last page update: 29.8.2010 |